60-Day Return
100% Money-Back Guarantee
12-Month
Product Guarantee
24/7
Customer Support
Designed & Tested
by Artists for Artists
Customers'

Testimonials

Stories from real people, real artists. Read what they have to say about our fine art tools, designed by artists, for artists.
Jean H.
Art Student. I have been trying to find oil paints that I can be comfortable with especially at a good price. I really love the pigment in this oil paint! It's so easy to blend the colors together too. I am definitely going to keep buying all my oil paint from this brand.
Jennifer B.
The price cannot be beat on these oils. The tubes are very large and are high quality. The colors definitely mix well together to create the exact shade you want. After purchasing this set, I am definitely interested in purchasing the other two palettes by ZenART. It's clear the creators put a lot of thought and work into creating these palette sets to create paints that will work for all types of artists and paintings.
Viktor
I have been meaning to get back to painting after many years. I didn't want to spend too much money since I'm super rusty. This set is perfect for someone starting out and even for more advanced artists. The quality is great and the colors are vivid.
60-Day Money-Back Guarantee:
We know you'll love our fine art tools as much as we do and we aim to provide the best ones for your artistic practice. If that's not us, then don't fret. We proudly offer a 60-day 100% money-back guarantee.
Frequently

Asked Questions

What if I am not happy with these watercolor paints?

We only want you to find the best fine art tools that you will enjoy using. If that's not us, don't fret. We offer a 1-year guarantee and 100% money-back for 60 days. Just drop us a few lines about your issue, send them to our email address: support@zenartsupplies.co or scan the QR Code to get a quicker response:
Love Cats Tongue Brush
This is a very versatile brush and it is so easy to use it and transition from thin to thick lines.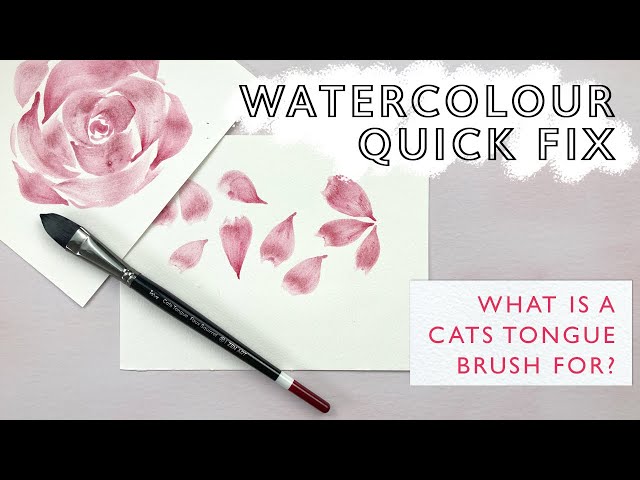 Likes:
The comfort of the handle, ease of control of paint and flow.
Improvements:
Great product.
Excellent brushes
Received my brushes recently. I love the feel of application of my watercolors with these brushes. The handle gives me better control over my other brushes. Nice flow and movement of brush strokes, didn't feel forced, and holds more paint than I expected. Excellent brushes and a great investment. Highly recommended.
Great gift!
My mother-in-law is picking up painting as a hobby and I bought her these brushes because they can support various media, like watercolor, gouache and acrylic so she can experiment with what media suits her best. She is super excited about these brushes and I am extremely happy that I could provide her with flexible media brushes.
Best quality love them!!
I am happy with the quality of the brushes and best customer service that Zenart supplies offers. Some of my brushes were damaged from black tulip mixed shapes set but the company took the responsibility and compensate me for the damaged items. I am so glad with their quick and easy customer care. The versatile cats tongue brush is one of my favorite brushes. I am so excited to create something unique with this brush.
QUALITY MATTERS
I usually paint in oils but decided to try gouache for portability. I thought I could get away with using the dime-store water media brushes that I had been ignoring for years. It was so frustrating, I almost threw away the new set of Holbein gouache. Afraid that I might be throwing good money after bad, I ordered a set of Zen Black Tulip brushes. What a difference a good brush makes! I don't know enough about water media to know why a good brush matters, but trust me, it does. Applying paint with them was, a zen experience
Thank you for your review. It's reviews such as yours that really help us understand what our customers love about our products but also where we might improve. Please don't hesitate to message us for anything. -Ryan, ZenART Supplies
One of brushes is broken.
One of brushes is broken.
Hi there! It's Ryan from ZenART Supplies here and I'm glad to assist you so that you can have the most positive experience with us at ZenART. I'm really sorry that this was what you experienced. Over thousands of handcrafted brushes, some faulty ones may occur, probably because of an artisan's oversight and shipping process. This rarely happens and I'm sorry it had happened to you.

With that said, rest assured: we offer a 1-year warranty over all our products and we would love to make it up to you. Would you like replacements or a refund? Although the replacements may take a bit longer because we're shipping them from our London office.
Can you also please send me a picture of the faulty brushes so I can send it to our Quality Team?
May I ask how it's going with the other brushes? Are you enjoying them?
Looking forward to hearing from you soon,
Ryan
Excellent!!
The delivery was fast and reliable. I haven't used this brushes yet, but I am very impressed with their design and the way they feel! They look really nice and I can't wait to use them! Thank you!!
New brushes
Excellent quality and a real pleasure to use. I would definitely recommend these.
Haven't received them yet
Can't say much cos they are not here yet
Vegan paintbrushes
Beautiful brushes that make it so easy to paint, thank you
Thank you so much for writing us this review We truly appreciate it. :)- Ryan