60-Day Return
100% Money-Back Guarantee
12-Month
Product Guarantee
24/7
Customer Support
Designed & Tested
by Artists for Artists
Expertly Handcrafted Brushes

For Watercolor

Feel Your Art Beating
01
6-pc Set Specific to Water-Based Art
Designed by artists for artists with all you need for watercolor, gouache, ink, & fluid acrylics; Rigger 2, Round 8,10, Flat 8, ¾", Cat's Tongue ¾"
02
Vegan Brushes
Using the finest Japanese synthetic hair to mimic qualities of squirrel and kolinsky sable, but without using animal products; extensively tested & proven for their professional performance
03
Consistent Flow Control
ZenART's Smart watercolor brush set has tips that maintain their shape even with heavy use while carrying enough color to paint expressively with control; they're easy to clean too
04
Transforms Your Art
Blend of a varying diameter of synthetic fibers enhances color absorbency, and creates crisp, smooth brush strokes; these watercolor paint brushes help improve skills and allow experimentation
05
Handcrafted by Master Brush Makers
Each ZenART paintbrush is meticulously handcrafted by master brush makers using complex methods that require high precision and years of experience.
Why

Choose ZenART
Purchase with a purpose
Through B1G1, a portion of the proceeds of every ZenART fine art tool you purchase goes to supporting powerful projects that make global life-changing impacts. ZenART supports initiatives working to help women and children suffering from poverty, inequality, and injustices.
Professional Artist & Co-founder: Ardak Kassenova
We are a company founded and run by passionate artists and art enthusiasts. Ardak Kassenova created ZenART with the belief that its clients would never be just a number, but a name, and a real person. Each customer is personally invited to join the growing community of artists that she started—to support and inspire one another, and to continuously improve ZenART products based on real artist feedback.
Designed by Artists for Artists
Each ZenART fine art tool is designed and developed in close collaboration with professional artists and creatives, combined with Ardak Kassenova's personal experience.
Trusted by Professionals: Brand Ambassador Sara Berrenson
The Black Tulip set is endorsed by Sara Berrenson (@saraberrenson), who primarily works in gouache and watercolor creating fresh florals mixed with novelty prints and geometrics. Our Black Tulip brushes enhance Sara's uplifting, expressive art to bring light and blossom to your home, fashion and life. Sara is an accomplished illustrator working with major retail brands, and author of the bestselling Watercolor the Easy Way book.
High Performance Watercolor Brushes

That Take The Pain Out Of Painting
Customers'

Testimonials

Stories from real people, real artists. Read what they have to say about our fine art tools, designed by artists, for artists.
Catherine G.
These brushes hold a good amount of water, keep their shape, don't shed any hairs, easy to hold, not too chunky or heavy. All individually wrapped with the round brushes having caps to keep the bristles in place and they come in a wallet. Absolutely beautiful, I love working with these brushes, such a great company!!
Peter S.
I am pleased to say that these Black Tulip faux squirrel brushes are great. The cat's tongue brush is especially brilliant as I can paint an entire picture with it. It is especially good for painting leaves. Zen Art's customer service is as good as their products too and I can see myself buying many more of them.
R. Shields
Really unusual brushes that easily paint round corners. As good as squirrel brushes without harming the squirrels. Not too expensive and fabulous customer service. My art tutor liked them too. Don't miss these!
60-Day Money-Back Guarantee:
We know you'll love our fine art tools as much as we do and we aim to provide the best ones for your artistic practice. If that's not us, then don't fret. We proudly offer a 60-day 100% money-back guarantee.
Frequently

Asked Questions

How are Black Tulip brushes made?

There's a complex manual process behind making each brush, and all the methods require high precision and years of experience. Let us try to give you a general overview of how these beautiful brushes are made:
A ZenART Black Tulip brush is handcrafted with a brush handle made of genuine and exquisite lacquered birch wood and seven layers of UV coating. The bristles are manually formed using different techniques for specific shapes, tightly tied, combed, gripped by a non-rust nickel ferrule, glued with a precise injection of special glue. After drying, the ferrule holding the bristles is double-crimped to the handles to fasten securely. The brushes are then inspected again to remove any 'floating shorts' —bristles which may sometimes remain, especially in larger sized brushes or round shapes, and cause initial 'shedding' during breaking in period. After a thorough inspection, the brushes are then protected and sized before getting packed.
How soft are these brushes?
These brushes are soft yet springy, and keep their shape well without compromise. We use Japanese synthetic hair fibers to mimic qualities of natural soft bristles, for that crisp, smooth detailing; extensively tested for their professional performance.
However, if you prefer natural brushes, you can take a look at our Turner brush set or other lines of faux synthetic hair and natural hair blends.
How durable are these brushes?
These brushes are 'trained' to maintain their shape even after heavy use and provide consistent control whatever art project you're working on. Using elegant seven-times-lacquered birch wood short handles allows for a luxurious feeling of unrivalled balance, particularly during intricate and exacting strokes. The use of high-quality faux squirrel bristles on these brushes also made them very sturdy. And of course, they'll last even longer if you take good care of them.
How much water can these brushes hold?
These brushes are resistant to heavy use and can hold a significant amount of water to allow you to get the perfect results for your paintings. The faux squirrel synthetic fibers lay down a good, even wash. Therefore, many professional artists were pleasantly surprised and compared our Black Tulip collection brushes with the squirrel and kolinsky sable performance in a much more affordable yet surprisingly effective set.
Are these brushes suitable for beginners?
Yes! These brushes are high quality, and many professional artists praise them for their fantastic performance, thoughtful variety of shapes and sizes specifically designed for water-based media. When it comes to art materials and tools, a famous saying among the artists and the art tutors is that 'One should buy the best quality one can afford.' It's so true, especially for beginner artists, who are still building up their confidence and knowledge of techniques. The best art tools will help accelerate progress and keep you motivated to paint and experiment with new techniques.
Considering the value for money we offer for such an extensive artist-quality set, including the guides, tutorials and advice, you'll make a significant long-term gift for yourself or other artists, whether beginners to advanced and professionals.
How do you protect the brushes?
In order to bring you the best quality brushes intact we apply special protective solution to keep the tips of the brushes in the original shape.
We also wrap the brushes in transparent films, and it's done to protect and waterproof the brushes for transit. We want to make sure that you receive your brush set in its best state, wherever you are in the world.
It also serves as a seal of guarantee to our customers and our return department that the brushes have never been used before. In some cases, we experience customers returning used brushes and these are not re-sold. Having these plastic films ensures that you received a brand-new set.
How do I clean and care for these brushes?
Our Black Tulip collection brushes are easy to clean and maintain:
For new brushes: First, always remove the transit solution by washing the brushes with mild soap and lukewarm water. Slightly massage between the bristles on the palm of your hand, letting any floating bristles to be washed away, if any, especially in large sized-brushes.
For regular cleaning or every after painting: Clean the brushes well with soap every after use—before the paint dries— to avoid damage from paint build-up at the base of the ferrule. Do not push the brushes too hard into your palms.
We recommend using vegetable oil-based soap, gentle to the bristles and your skin.
After rinsing thoroughly, use a microfiber or other absorbent towel to remove excess water.
Gently reshape the bristles with your fingers, and let it dry naturally on a horizontal or flat surface.
Brush Care Tips:
Never leave the brushes soaked in water, as this will ruin your brushes and cause damage to the bristles, glue and handle.
From time to time, and for optimum results, you can apply a special lanolin-based brush conditioner (optional), for TLC and extra longevity of your brushes.
Follow our recommended cleaning guide above to reduce possible initial 'break-in shedding', which might be just short bristles not glued inside the ferrule that are trapped between the longer bristles.
After washing and drying, always gently reshape the bristles with your fingers, and let it dry naturally on a horizontal or flat surface.
Shedding: It is natural for brushes to shed lightly. Minimal shedding is common especially while you break them in. To reduce problems of shedding, ZenART has crafted these watercolour brushes with faux squirrel synthetic fibers. The brushes lose fewer bristles and normally don't shed at all. In rare occasions, it might happen, and such cases are significantly less compared to other ones on the market. Reasons can be any of the following:

Using brushes before removing the transit solution
Harsh "breaking-in" of new brushes. We suggest trying the above method of cleaning, drying horizontally, and gently removing any floating bristles while dry, before giving up on your brushes.
Misuse and ruining of the brushes due to harsh chemicals, abrasive surfaces, soaking brushes in water or other solution, vertically letting them stand and loosening the glue.
In extreme cases, manufacturing defects, when not enough glue was applied and the brush (losing bristles long enough to be potentially glued in the ferrule, not floating shorts). In such situations, we are here to support you, too, and offer our help to resolve any issues.
Are these brushes short or long-handled?
The Black Tulip collection brushes are short-handled for full expression with water-based paints: watercolour, gouache, inks, and dyes. They have been specifically designed, weighted and balanced for precise horizontal painting and avoiding any hand fatigue or poking in your eye. The exquisite birch wood brush set also has seven layers of UV coating to prevent flaking, and provide slip & wear resistance.
What if I am not happy with these brushes?
We only want you to find the best fine art tools that you will enjoy using. If that's not us, don't fret. We offer a 1-year guarantee and 100% money-back for 60 days. Just drop us a few lines about your issue, send them to our email address: support@zenartsupplies.co or scan the QR Code to get a quicker response:
Love Cats Tongue Brush
This is a very versatile brush and it is so easy to use it and transition from thin to thick lines.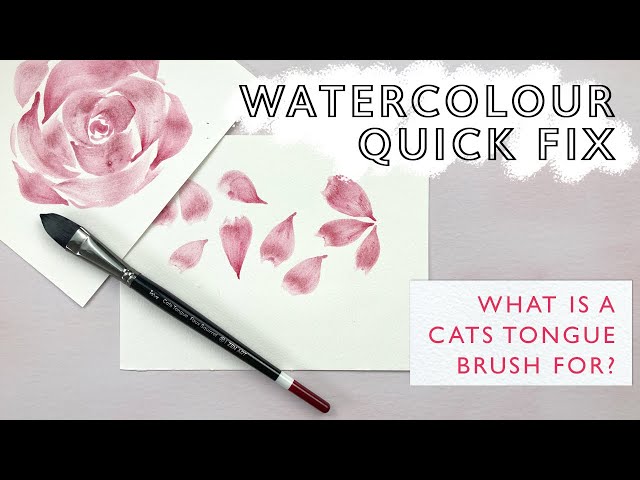 Likes:
That is a simple set that includes a wide variety without it being overwhelming
Improvements:
Could include a smaller round brush for fine details.
Great all rounder set
I am a beginner gouache painter. I ordered these brushes after getting overwhelmed when painting with another set that had many brushes. This set has less brushes and the different shapes make it easier to decide which brush to use for different parts of the painting. I just wish there was a smaller one for details. I like how they hold paint well.
Hi Sara, we're thrilled to know that this set is to your liking! I understand how you feel - I know how overwhelming options can be, especially when we were just beginners. I especially love your wave artwork - I used to make some before, but yours is too pretty! Thank you, and feel free to tag us on IG with #zenartsupplies. :)
- Johanna | ZenART Supplies
Likes:
that is a simple set that includes a wide variety without it being overwhelming
Improvements:
Could include a smaller round brush for fine details.
Great all rounder set
I am a beginner gouache painter. I ordered these brushes after getting overwhelmed when painting with another set that had many brushes. This set has less brushes and the different shapes make it easier to decide which brush to use for different parts of the painting. I just wish there was a smaller one for details. I like how they hold paint well.
Art Nomad・4RetractableFauxSableBrushes
I tried using ArtNomad・4Retractable Faux Sable Brushes. It has a good balance of softness and firmness, and it was comfortable for drawing postcard-sized watercolors.
Hi Yukiko! I wanted to extend a heartfelt thank you for taking the time to share your wonderful feedback about our Retractable Faux Sable Brushes. Your positive review truly made our day and reinforces our commitment to delivering top-notch products that artists can rely on.
Your feedback is invaluable not only to us but also to fellow artists seeking reliable and high-quality tools. By sharing your thoughts, you're helping us build a community of artists who can make well-informed choices and elevate their work with confidence.
Wishing you boundless creativity and countless strokes of brilliance in your artistic endeavors!
-Ryan
Likes:
The comfort of the handle, ease of control of paint and flow.
Improvements:
Great product.
Excellent brushes
Received my brushes recently. I love the feel of application of my watercolors with these brushes. The handle gives me better control over my other brushes. Nice flow and movement of brush strokes, didn't feel forced, and holds more paint than I expected. Excellent brushes and a great investment. Highly recommended.
Great gift!
My mother-in-law is picking up painting as a hobby and I bought her these brushes because they can support various media, like watercolor, gouache and acrylic so she can experiment with what media suits her best. She is super excited about these brushes and I am extremely happy that I could provide her with flexible media brushes.
Best quality love them!!
I am happy with the quality of the brushes and best customer service that Zenart supplies offers. Some of my brushes were damaged from black tulip mixed shapes set but the company took the responsibility and compensate me for the damaged items. I am so glad with their quick and easy customer care. The versatile cats tongue brush is one of my favorite brushes. I am so excited to create something unique with this brush.
QUALITY MATTERS
I usually paint in oils but decided to try gouache for portability. I thought I could get away with using the dime-store water media brushes that I had been ignoring for years. It was so frustrating, I almost threw away the new set of Holbein gouache. Afraid that I might be throwing good money after bad, I ordered a set of Zen Black Tulip brushes. What a difference a good brush makes! I don't know enough about water media to know why a good brush matters, but trust me, it does. Applying paint with them was, a zen experience
Thank you for your review. It's reviews such as yours that really help us understand what our customers love about our products but also where we might improve. Please don't hesitate to message us for anything. -Ryan, ZenART Supplies
One of brushes is broken.
One of brushes is broken.
Hi there! It's Ryan from ZenART Supplies here and I'm glad to assist you so that you can have the most positive experience with us at ZenART. I'm really sorry that this was what you experienced. Over thousands of handcrafted brushes, some faulty ones may occur, probably because of an artisan's oversight and shipping process. This rarely happens and I'm sorry it had happened to you.

With that said, rest assured: we offer a 1-year warranty over all our products and we would love to make it up to you. Would you like replacements or a refund? Although the replacements may take a bit longer because we're shipping them from our London office.
Can you also please send me a picture of the faulty brushes so I can send it to our Quality Team?
May I ask how it's going with the other brushes? Are you enjoying them?
Looking forward to hearing from you soon,
Ryan